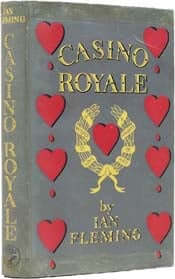 AbeBooks specializes in rare and collectible books and it has just published a listing of its most expensive sales in 2012. This is something that you will never find in the ebook market! Here they are:
At $47,729, a copy of Johann Bayer's 1603 celestial atlas with 48 tables of the constellations. According to AbeBooks, this was the first star atlas to cover the entire celestial sphere and introduced a new system of star designation.
At $46,000, is a first edition of Ian Fleming's Casino Royale that was inscribed by Fleming.
At $30,000 is Franz Kafka's novel Die Verwandlung (The Metamorphosis) in the original German edition.
The AbeBooks listing goes on to list the most expensive books in 12 categories. For science fiction fans, a first edition of The Day of the Triffids went for $14,500 and in children's books a first edition of Where the Wild Things Are went for $25,000.
Hat tip to infoDOCKET for the link.
Paul Biba is a retired corporate international lawyer who has worked in 53 countries. Since he is a very fast reader he came to ebooks out of self-defense in order to avoid carrying a suitcase of books on his travels around the world. An early ebook adopter, he has read on Palms, Pocket PCs and practically every device that has been out there. After being a frequent contributor to TeleRead.com, the oldest ebook/epublishing blog on the net, Paul became TeleRead's Editor-in-Chief, a position he recently resigned. Send Paul an email to paulkbiba@gmail.com