Kobo is the second largest e-reader and ebook retailer in the world. The company burst onto the scene in 2009 in Toronto, Canada. They quickly took over the Canadian market and started to expand into foreign countries in a really intelligent way.   The future is bright for Kobo and they continue to release two new e-readers every single year.
Short Covers
Michael Serbinis was the brainchild behind Short Covers and eventually Kobo. The first company he started, DocSpace, was an internet leader in security. He founded it in 1997, and went on to sell it to CriticalPath in 1999, for whom he was CTO and EVP marketing for some time. Over this period he obtained a master's degree in engineering and a few patents. He returned to Canada in 2006 and joined Indigo Books and Music.
Michael Tamblyn played a major role at Short Covers and was hired by Serbinis in 2009. Tamblyn brought a wealth of experience. He founded and was CEO of supply-chain agency BookNet Canada and the co-founder of Bookshelf.ca, Canada's first online bookstore, which was acquired by Indigo Books and Music in 1998.
Serbinis started to lobby Indigo about getting involved in the seachange of e-books very early on. He constantly pitched the idea to management. After a few years of meetings and going back and forth, Short Covers was going to be a reality.
Shortcovers was launched in 2009 and Indigo completely financed the development of an app for Android and the iPhone to read e-books. Less than year after Short Covers went live it provided eBooks to customers in over 200 countries who have downloaded its reader application over 1 million times online and through devices including smartphones, desktops and popular e-readers like the Sony Reader.
Michael Serbinis had grander ambitions for Shortcovers and wanted to spin it away from Indigo and create Kobo. This was an opportune time because in 2009 digital book sales were up 176%  and in 2010 were expected to top $500 million in the U.S. alone.
Attracting new investors proved to be the easiest part of launching Kobo. Tapping the large Hong Kong investor that had backed him at Critical Path, Serbinis convinced Li Ka-shing's Cheung Kong (Holdings) to invest in the digital start-up.  Indigo CEO Heather Reisman turned to her friends at U.S. book retailer Borders and its Australian chain to also buy a stake. Michael Serbinis and Heather Reisman officially co-founded Kobo in late 2009.
When Reisman was asked why she co-founded Kobo if ebook sales were going to hurt her brick and mortar business, she famously said "If my business was going to be cannibalized, I was going to do the cannibalizing."
According to Michael Serbinis, CEO of Kobo, "We have assembled a strong syndicate of investors and partners across the channels that are key – retail and mobile distribution. We have a unique opportunity to power the e-Reading revolution by reaching consumers on any device they choose."
Borders Group, Inc. Chief Executive Officer Ron Marshall says: "As retailers who welcome thousands to our bookstores each day, Indigo and Borders share a belief that the future of bookselling will include both bricks and mortar and digital options. Indigo has carefully nurtured Shortcovers into a leading e-Reading service, and today with its evolution into Kobo, Borders is pleased to join with other investors who share Kobo's vision for any book on any device."
David Fenlon, REDgroup Retail chief executive officer said "REDgroup partnership with Kobo will help us make eBooks and other eReading content available for our customers across our popular Borders, Angus & Robertson and Whitcoulls brands. We are committed to delivering the best possible range and experience for our customers whether they're shopping online or in-store. eBooks and other eReading content are a great way to expand and improve our offer. We're very pleased to be partnering with Indigo on this important new platform for our business."
Kobo had successfully become its own independent entity. They had an emerging base of users that were reguarily purchasing ebooks and they were starting to get a name for themselves on platforms that did not have any viable e-reading apps. Now it was time to start making some serious money and think about designing their own hardware.
The first Kobo e-reader
Kobo had a wealth of experience making apps and developing an extensive digital ecosystem. It was time to take the next step into hardware.  Michael Serbinis told me that "Our dear friend Ken Nickerson brought Heather and I together. He suggested we create the "Nickel" a very simple device that was a Bluetooth enabled E Ink screen. We ended up building something more complex. Dan Leibu and I drew up the original requirements on a napkin at a local bar. I have the original "napkin" back at home."
Dan Leibu, CTO of Kobo, who in early 2010 was nervous as hell about launching their own device. He said something to the effect of "if we had known so many ebook readers were going to launch, we probably wouldn't have launched our own".
The first Kobo e-reader launched in May 2010 and the first device needed people to plug their device into their computer and sideload in their own books. This was confusing to new users, so in October 2010 Kobo released the Kobo WIFI. You could buy books right on the e-reader and start reading right away. It was the first e-reader that really got promoted in Canada. Indigo/Chapters, Futureshop and many other retailers were falling over themselves to carry these devices.
In the first twelve months of Kobo being its own company, they generated over $100 million dollars in sales. People started to take notice of the scrapey Canadian company and decided to invest. Subsequent funding rounds saw an infusion of $100 million dollars in total funding from Indigo Books and Music. This allowed the company to go on a hiring spree, movie into a bigger office and start thinking about international expansion.
Over the years Kobo has released over a dozen e-readers. Some of the most notable were the five inch Kobo Mini, Kobo Aura, the premium Kobo Aura One and the Kobo H2O.  The gradually improved their e-readers with big software enhancements, new lightning system with more LED lights and a color temperature system.  They also issued the first digital reader that had Overdrive library functionality built right in it.
Expansion
"When we started Kobo, we could see that the market for books was about to change," said current CEO Michel Tamblyn.  We believed that this was going to be the first time that the book business wasn't going to be a national business, but an international one."
It's hard to remember now, but the picture was far from clear back then. "When we started, Indigo was the biggest bookseller in Canada, Barnes and Noble was the biggest in the United States, FNAC was the largest in France," Mr. Tamblyn explains. "We could see that those barriers were probably going to dissolve in the face of digital distribution. We felt that with e-books, the market would be dominated by between three and five companies worldwide – and we wanted to be one of them."
"One of the best ways to get bigger is through international trade," Export Development Canada said in a 2014 white paper. EDC's white paper looked at more than 300 businesses, half of them slow-growing and half of them growing quickly. "For three quarters of the latter companies, the number one ingredient for success was having an international growth strategy that's integrated into the firm's overall business strategy," EDC said.
Kobo decided the best way to expand, was to do it internationally and not focus on the United States. "We could see that for e-books, the U.S. was going to be a battleground. It was the home turf of Amazon, Apple, Google, Barnes and Noble – it seemed like everyone was going to focus their resources on winning that one market," Mr. Tamblyn says. "Instead, we went to every other country where it appeared that e-books had a chance of becoming a significant category. That's what led us into Europe, Australia, New Zealand and Asia. The others' focus on the U.S. gave us a chance to build market share in those other territories."
In a blog post about expansion, Michael Tamblyn stated "Publishers and retailers in France are particularly cautious about working with foreign retailers, especially related to e-Books, but our membership in La Francaphonie and sensitivity to France's tradition of cultural protection helped to get us a partnership with France's largest retailer, FNAC, and a very significant French business. Our history as a Commonwealth country who had forged our own distinct English literature helped our partnerships in Australia and New Zealand. In Belgium and Switzerland, we understood multilingual politics, with all of its richness and complexity. In Mexico, we shared with both publishers and retailers the struggle of fighting to keep a distinct national culture while living right next to a neighbor who casts a very long media shadow. Situations like that repeated from the UK to Netherlands, from Turkey to Brazil. And they allowed us to form alliances and partnerships and reach customers that our competitors could not."
Kobo has a blueprint when they expand into international markets and has duplicated it many times over. They first hire agents and former publishing executives with connections, these are people who know the local publishing landscape very well. It allows them to immediately attain a portfolio of locally sourced e-books that that people can read in their native language. Next, they partner with local bookstores. They partner with bookstores because this is where the serious readers are, which are the type of customer that Kobo wants.
Rakuten
Kobo started to get bloated and was hemorrhaging cash. By the summer of 2011, the start-up was chewing through millions a month. At the same time Indigo Books and Music saw a massive decline in sales. In the quarter that ended last Oct. 1 saw a net loss of $35 million, a huge plunge from a $1.8-million loss a year earlier. Shareholders started to bail from the stock, driving the price to a 52-week low of $6.43 in November, 2011, less than half its peak of $15.53 in October, 2010.
In August, 2011, Rakuten CEO Hiroshi (Mickey) Mikitani  asked for a meeting with Kobo's owners. By the time they met him in the middle of the month, Reisman and Serbinis knew to expect a takeover offer. Despite Kobo's financial challenges, Reisman was ambivalent about selling the division that had grown to global acclaim so quickly.
It took less than three hours for the Indigo team to strike a deal with Mikitani and his chief negotiator, Yoshihisa Yamada. After opening with a bid of little more than $250 million, the Rakuten team quickly closed in on Reisman's ambitious asking price of $450 million. With a handshake, Mikitani agreed to buy Kobo for $300 million in cash. The deal meant that Indigo would pocket a five-fold gain, $165 million, on its Kobo investment of $31.6 million—no small amount for a company whose stock market capitalization at the time was $161 million.
Serbinis also issued a statement, saying, "From a business and cultural perspective this is a perfect match … This transaction will greatly strengthen our position in our current markets and allow us to diversify quickly into other countries and e-commerce categories."
Rakuten CEO Hiroshi Mikitani said  they will be working to grow Kobo's user base around the world as quickly as possible. Serbinis reiterated that Kobo e-readers will constantly be developed and have a 50% market share in Canada.
In 2014 Michael Serbinis decided to step down as chief executive of Kobo and was replaced by Takahito Aiki , who has been with Rakuten since 2007. According to his LinkedIn profile he joined as an executive officer. Mr Aiki took over as the president and CEO of Fusion Communications, one of Rakuten's telecom subsidiaries.  Under Taka's leadership, Fusion became a reliable profit centre for parent company, Rakuten, Inc. He is also an accomplished former Manager at Bain & Company and was responsible for the online business of Japan's top bookstore and video rental company Tsutaya, where he helped grow its online membership by 250% in only two years. Taka and his family will reside in Canada and will lead Kobo from its head office located in Toronto, Ontario.
"I am thrilled to accept the role of CEO at Kobo," said incoming CEO Takahito Aiki. "I am excited to be joining Kobo, one of Canada's most prominent brands and a true innovator in eReading. The Kobo team is extremely talented and, working together, I look forward to driving Kobo's leadership in eReading."
From 2014 to 2016 led Rakuten Kobo through some significant advances: Rakuten's acquisition of OverDrive; the launch of Kobo's digital reading service in Mexico with two of the country's biggest bookstore chains, Librerias Porrúa and Gandhi; and the acquisition of the customers from Sony's eBook business and from the UK eReading service BlinkBox. In the same period the company has also launched three successful new devices: The world's first premium waterproof e-reader, the Kobo Aura H2O, Kobo Glo HD and Kobo Touch 2.0.
Michael Tamblyn a founding member of Kobo in 2009, Tamblyn was named president of the company in April 2014 and was announced as the new CEO in 2016. He was groomed by Taki for the job. He continues to be the the current CEO.
Store and publishing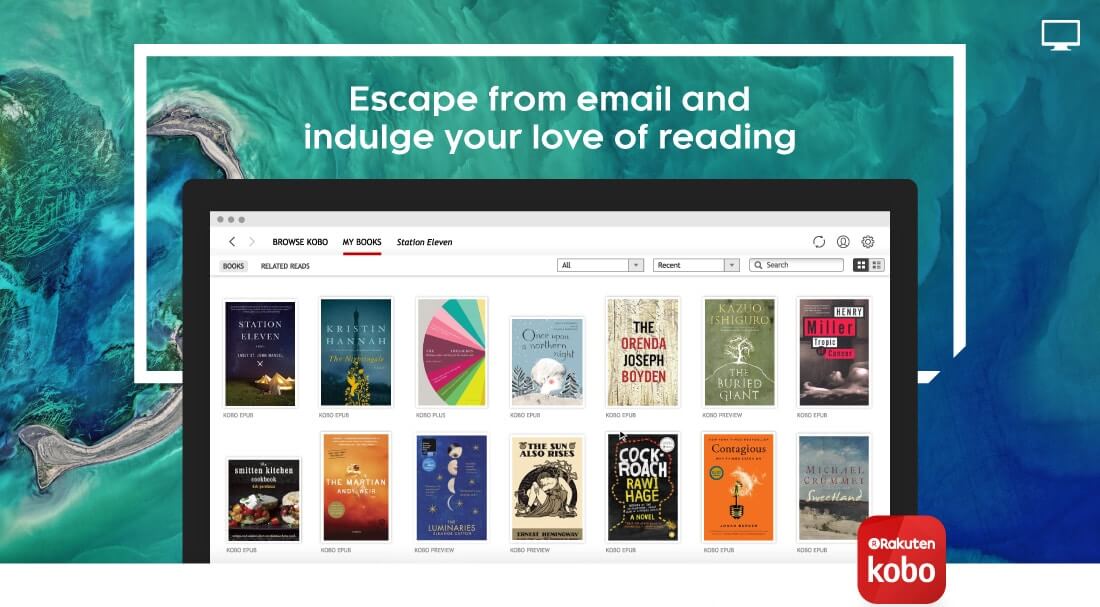 Kobo's bookstore was opened in 2009. It is localized for 16 and now available in over 190 countries and comprises 5 million titles. Content sold on the Kobo Bookstore include eBooks, Audiobooks, newspapers, and magazines. The majority of titles are sold in the open ePub format, albeit with Adobe DRM. You can watch this video to see the main differences between the Kobo bookstore and the Kindle bookstore.
On 17 July 2012, Kobo launched a self-publishing platform called Kobo Writing Life. Key features of Kobo Writing Life include "deep analytics", allowing authors to track sales in real time; a "learning center" to guide newcomers in digital publishing; and allowing an author to sell books globally. By July 2014, 250,000 books written by 30,000 authors have been published through this program; these authors originate from 157 countries and have books published in 69 languages.
"KWL titles aren't segregated or called out in any way," said former Kobo Writing Life Director Mark Lefebvre. "They sit alongside books from the world's largest publishers and effectively compete head-to-head with the largest authors in the world."
Writing Life continued to go through some growing pains, but came into its own in 2016. The service  has attracted more than 55,000 authors from 166 countries and published more than half a million titles. KWL represents 22.5% of Kobo's book sales in the English language markets, making it Kobo's largest individual "publisher."
Mark Lefebvre disclosed to Good e-Reader that "The KWL team in 2018 is  100% female, which, to me, is an important element – there are a lot of women in publishing, but not as many leading the charge at a higher level – to see the entire team of a hugely successful endeavour like KWL being led and run by women is wonderful and draws nice parallels between women and indie publishing coming into their own as dominant and important players."
Several digital bookstores have closed down and transferred their users to Kobo's bookstore. This provided millions of new customers, who turned spent millions of dollars on additional content. Some  industry experts have accused Kobo of being predatory vultures, waiting for e-book companies to go out of business and than they swoop in take all of their users and gravitate everyone into the Kobo ecosystem.
Sony has been selling e-readers and eBooks since 2004 and they were the first mainstream company who made a serious power-play to cultivate the industry. Their successes and failures over the years acted as a playbook for Amazon, Barnes and Noble, and Kobo to enter the the fray and immediately make an impact. Sony eventually got nudged out of the business due to the prices of e-readers coming down, to a such a point, that it was not financially viable anymore to continue and their e-book business was destroyed by Amazon.  In February 2014 Sony announced that they were exiting the eBook space and Kobo would take over their book business.
In January 2015 Tesco was not doing so hot with their Blinkbox Books business unit and decided to close their store down and transfer all of their customer purchases and e-books over to Kobo.
Flipkart is the largest e-commerce site in India and they got swept up in the whole e-book craze of 2011 and 2012 when it launched its e-book service. The following year they released a mobile app for Android, iOS and Windows so people could read all of their digital content while on the go. They decided to close down their e-book service in December 2015, because the general public failed to embrace the digital format. Once again Kobo was earmarked to take over their e-book business for an indeterminate sum of money.
Waterstone's is the largest chain of bookstores in the United Kingdom and have been selling e-books since 2012 and they announced in May of 2016 that they were closing down their online store and transferring all e-books and customer accounts over to Kobo.
Sainsbury's launched their online bookstore in in 2013 when they bought a controlling interest in the Anobii ebook community. The company tried really hard to make their digital business work, by allowing grocery customers to use their points to get free e-books, or at least discounts.
The Sainsbury's brand gained international headlines in early 2016 when Barnes and Noble announced that they were closing their Nook Bookstore in the United Kingdom and all customer accounts and books were transferred over to Sainsburys. This process took a lot longer than expected because Sainsbury's simply did not have the technological infrastructure to handle so many new accounts and imported e-book collections at once. In October 2016 the company announced they were closing their shop and transferring everything over to Kobo.
Rakuten CEO Michael Tamblyn explained the process "Often, there isn't a purchase involved at all. In many cases, we are helping them out as they reach the end of their runway. Most companies that started out between 2009-2014 have run into one of a number of walls related to scaling – they couldn't capture enough share to make publishers interested, couldn't get big enough to keep investors interested, tried out a business model that didn't work, couldn't raise cash after VCs moved on from ebooks to the next shiny thing, or their parent company didn't see a path to profitability and decided to wind down. Whatever the reason, Kobo's focus is making sure that people who bought ebooks can keep their libraries intact and continue on with us as happy customers. It's so gratifying to get messages from these newly-migrated customers who are so relieved that their books aren't going away, who get to upgrade to newer, better e-readers, who were stuck on apps that hadn't been updated in years and now get to see how mobile reading has jumped forward. And the companies who are working with us are happy too. Instead of angry customers wondering where their books went, readers and their libraries are taken care of. It isn't always easy, but we do our very best to make it a soft landing for everyone.
Aquafadas Acquisition
When Kobo was purchased by Rakuten, one of their first acquisitions was the french digital publishing company Aquafadas to bolster the breadth of content available on its e-reader devices, for which it claims 10 million users in 190 countries. Terms of the deal remain undisclosed.
The acquisition gives Kobo access to the Aquafadas Digital Publishing System, which the company says will enable it to bring a selection of rich media –- magazines, academic journals, comics, kids' books and more — to its customers, by providing better content creation tools for publishers.
Aquafadas's Digital Publishing System offers a complete digital publishing suite — from content design to cross-platform distribution and analytics, and combines content design tools with a "versatile library of ready-to-use apps", ePub3 export, and a Web reader. Thus enabling publishers to create richly designed content without the need for any coding chops. The Kobo hook up is about bringing distribution directly to that publishing platform.
Tolino Acquisition
The Tolino Alliance was formed in 2013 and their mandate was to combat Amazon in Germany. This was the first time Thalia, Weltbild, Hugendubel, Club Bertelsmann, Deutsche Telekom banded together to forge a series of e-reading devices and launch an online bookstore. In 2017 Kobo purchased the backend infrastructure from Deutsche Telekom which included thousands of German language e-books.  Kobo also got access to the software which powers the Tolino line of e-readers and backend software that powers the cloud sync platform.
Kobo CEO Michael Tamblyn spoke to Good e-Reader about the Tolino acquisition.  "The ebook business rewards scale. It's now pretty clear that the model of physical book retail – each country having its own collection of big retailers and independents – doesn't work in ebooks. The level of investment required to be truly competitive in devices and mobile reading requires international scope and scale. But with that scale, we can then keep bricks-and-mortar retailers fully in the ebook game. So Tolino was a perfect fit for us – a national ebook solution that had achieved great success in German-speaking markets that wanted to do more and be even better. With that acquisition, we all benefit. More economies of scale for the e-reader business, exchange of ideas and technology that help us all be better digital booksellers, and our being able to bring new capabilities to a very successful retail coalition. It's a pleasure to work with retailers who not only want to win in ebooks, but are now part of a community of retailers who are proving that you really can win"
He went on to say "Tolino is a major player in Germany, Austria and German-speaking Switzerland, and will be the exclusive eBook brand for our partnership in these territories. Kobo will continue to maintain its platform and devices for existing German-speaking customers, with the possibility of migrating Kobo's existing customers to the Tolino alliance over time. From a catalog perspective, both Kobo and Tolino have great German-language catalogs, and we are looking at the possibility of Tolino benefiting from Kobo's international catalog and publisher relationships as well."
The Kobo CEO also dropped a bombshell, something that has never been reported before "Kobo has taken over the manufacturing of Tolino devices, which will continue to be sold by alliance retailers under the Tolino brand. In German-speaking markets, Kobo will shift its focus from selling Kobo devices to concentrating on supporting Tolino in those markets. What's exciting is starting to work together on new devices that can continue the great success that Tolino has had in German-speaking markets combined with some of the device innovation that has made Kobo a leader in pushing forward e-reader design."
Shelfie Acquisition 
Shelfie formally known as Bit.lit launched in 2013 and the company is based in Vancouver, British Columbia. Shelfie is a digital bundling platform that allows you to scan your physical bookshelf and it will produce a list of audiobooks and e-books that are eligible to receive discounts. The company has relationships with hundreds of publishers and they all bought into the fact that if you own the print version, you should receive some sort of discount when investing in the digital edition.
In April 2017 Kobo acquired Shelfie and Michael Tamblyn explains on what he liked about the company " There are three parts of Shelfie that were very interesting to us. The first is their interest in helping to capture a digital customer's print reading preferences. That has a lot of very interesting applications for a company like Kobo that wants to be as helpful as possible in helping someone to find their next great book. The second is their being at the forefront of thinking about how ebooks and print books can coexist at retail – obviously interesting to us as the leader of a worldwide retail coalition bridging print and digital. And the third is a team of truly first-rate innovators who have spent a lot of time thinking about how mobile experiences, computer-vision and more can make a reader's life better. Very very cool, all of it."
Kobo Plus – An Unlimited eBook subscription program
Kobo Plus is an unlimited e-book subscription program that launched in the Netherlands and Belgium back in February 2017.  When Plus first came online you could subscribe for  € 9,99 per month and have access to 40,000 titles, 16,000 of which are in Dutch.  Over the course of the past five months things have been really quiet, there has been no meaningful data on how Plus has been performing, until now.
Key Points
20% previously had not bought any books (paper or digital) at bol.com
40% have not bought a digital book before (through bol.com or Kobo)
10% bought only one digital book per year; with Kobo Plus these customers have on average 10 titles on their digital bookshelf
BOL and Kobo offer a free 30-day free trial and 75 percent of users ended up paying for a monthly subscription and users have read over a million hours. Daniel Ropers, general director of bol.com, sees an additional benefit to the book industry and that is drawing attention to unknown authors. 
"One of the reasons for launching Kobo Plus is to reduce illegal downloads, just like successful streaming services for the film and music industry," says Ropers. "The fact that nearly half of the users are a new digital reader is for bol.com and Kobo an indication that the first steps towards reducing piracy in the Netherlands and Belgium have been set."
Kobo plans to have 20,000 Dutch-language titles by the end  of the year. Since its launch, the catalog has grown from over 40,000 to over 80,000 titles and currently 18,000 of these are in Dutch.  Since Plus first launched over 400 new publishers have been added. 
I think one of the driving forces behind the success of Kobo Plus is how easy it is to purchase a subscription. Users can sign up directly on their e-readers and be able to filter out other categories to only display Kobo Plus books. You can also purchase a subscription via the Kobo app or the main Kobo/Bol website.
Kobo CEO Michael Tamblyn explained the process behind Kobo Plus and what the future might hold "The Netherlands was a perfect first market for us to try an all-you-can-read subscription service. We have great market share. We sell a lot of e-readers. We have amazing relationships with publishers. But it's also one of the few ebook markets in Europe with high levels of ebook piracy. So there are a lot of readers sitting outside of the legitimate market and a lot of authors not getting paid at all for their work. This let us have a very constructive set of conversations with publishers: what would bring pirate readers back to paying for books? How can we create a sustainable model that avoids some of the challenges that other subscription services have faced? And how can we make sure everybody benefits – the reader, the author, the publisher, Kobo, and our retail partner bol.com? We managed to do all of that and, unlike some services in other markets, get all major publishers on board, get best selling front lists as well as backlists, get major authors alongside self-published authors to create a comprehensive catalog that would make any reader happy."
Kobo Audiobooks
In late 2017 Kobo launched an audiobook bookstore that sells audiobooks individually and also provides them on a subscription level basis. Their entire audiobook catalog is powered by Overdrive and this is the first time they have ever been involved in an audiobook subscription scheme.
Kobo Audiobooks will cost $12.99 per month in Canada and comes with a 30-day free trial period. Customers will get one credit a month with their subscription and they can be redeemed for any audiobook title on the platform. You can also purchase Kobo Audiobooks individually and shop with confidence with their Price Match Guarantee.  In addition, readers earn Kobo Super Points on their monthly subscription fees or audiobook purchases. The Kobo audiobooks service is available today in the US for ($9.99/mo), the UK (£6.99/mo), Australia ($12.99/mo), and New Zealand ($13.99/mo).
Kobo has updated their app for Android and iOS and have brought over a fully functional audiobook player. You can make purchases and listen to your content on Android, and with iOS you can only listen to titles you have already bought or have used a credit on. You cannot make purchases directly on your iPhone or iPad.
"We have more books than time, always. Audiobooks let our readers fit the books they love into more parts of their day," says Michael Tamblyn, CEO, Rakuten Kobo Inc. "Audio lets you be in two places at once—exploring the galaxy on the daily commute, solving a crime while doing the laundry, or wherever you want your favourite story to take you."
Tamblyn continues: "Last year, we built the Kobo Aura ONE e-reader with the help of our best customers, and our new offering is no different. What we unequivocally heard was that they wanted the best deal on audiobooks, and we are pleased to offer the lowest subscription price available."
Over the course of the past three years the highest growing segment of publishing are audiobooks. The global audiobook industry is currently evaluated at $3.5 billion dollars and the United States is currently the largest singular market with $1.8 billion dollars in audio sales in 2016 and this was a 31% increase from 2015. The Audio Publishers of America has stated that every year for the past three years 36,000 audiobooks were issued. When it comes right down to it, the retailers are the ones who benefit from the audiobook revolution. The vast majority of the companies that spoke to Good e-Reader have disclosed that they have seen triple digit growth and expect this trend to continue into 2017.
Michele Cobb, executive director of the Audio Publishers Association, pointed to the "significant" increase in units and dollars that audio has seen in the past few years; the tremendous popularity of podcasts; and referenced association surveys. Surprisingly, frequent listeners – of at least four audiobooks a month – skew 56% male.
Kobo Originals
Kobo Originals launched in early 2018 and the program features audiobooks and ebooks. Kobo has been working tirelessly with with publishers and industry partners to find great titles to make available in digital format to Kobo customers in France, the Netherlands and Canada. Kobo has quietly included all of their own original content into the Overdrive catalog.
There are only a handful of Kobo Originals right now, but more will be published later this year. Some of the most popular originals include – Zoe Whittall's The Best Kind of People, narrated by Sonja Field. Royally Yours, which is a six-part feel-good serial inspired by the Royal Wedding. It was dreamed up by a team of writers including Megan Frampton, K.M. Jackson, Kate McMurray and Falguni Kothari. Kobo Plus in the Netherlands also got a number of exclusives such as In the name of the Father by Linda Jansma and a number of titles by author Willem Asman.
Kobo told Good e-Reader that "We are very happy with our Kobo Originals program, and we continue to expand it, with our most recent being Plum Johnson's They Left Us Everything.  We source authors from a number of places, and are partnering with publishers, working with our Kobo Writing Life authors, and working with non-traditional content creators with stories to tell.  The goal of the program is to maximize our audio catalogue, and we're constantly searching for projects that we believe should be produced in audio, with lots of it happening organically though Kobo's strong relationships with publishers."
Walmart
After years of refusing to enter the ultra-competitive e-book market, it looks like Kobo will finally make a serious play. Walmart signed an agreement with Rakuten Kobo earlier this year to sell e-readers and ebooks online and carry a number of electronic readers in their retail locations in the United States.
Walmart is been expanding the tech department in many of their retail stores and expanding the floorplan to put a bigger emphasis on laptops and its massive wall of flat-screen TVs. The company is also more focused on bringing in top-selling brands at an affordable price, like Lenovo.  Walmart sources have disclosed to Good e-Reader that the Kobo service will go live on August 21st.
Walmart plans on selling audiobooks and ebooks on their website and has been totally redesigning their online shopping experience. The changes will be all encompassing and include a visual makeover, the introduction of new personalization elements, as well as dedicated sections for specially shopping experiences. The Home and Fashion sections launched earlier this year, but the new site is not up yet, but will be soon.
It remains to be seen if Walmart can make any money on a declining  product category: last year, Americans bought about 490 million e-books, or roughly 17% of the book market. Digital books as a percentage of total sales peaked at about 23% five years ago and have since slipped.  Walmart's U.S. online sales rose 50% in its most recent full quarter, so there is an obvious market for online shopping. Currently there are no mainstream e-readers in Walmart stores, they booted the Kindle out years ago and are making most of their money with tablets, such as the iPad.
The Kobo brand will play a small, but meaningful role for Walmart stores. The company will be able to make money selling the hardware and get a cut of every ebook purchased on a users device. They will also be able to generate additional revenue whenever a user purchases an audiobook on their website or via the new co-branded e-reading app for Android and iOS.
Walmart is the second largest bookseller in the United States and they primarily focus on paperbacks and mass market paperbacks. They are not afraid that ebooks will cannibalize their print business because digital will bring in an entirely new audience.
Wrap up
Kobo CEO Michael Tamblyn has a very special message for the Good e-Reader audience and this is what he would like you to know. "I'll take the opportunity to go after two big misconceptions. The first is I think there is a tendency for people in the US and UK who follow ebooks to assume that their experience – one 800lb retail gorilla who looms over the market – is the same in the rest of the world. It couldn't be more different. There are real diverse, competitive ebook markets in Canada, Germany, France, Italy and throughout Europe, in Latin America, in Asia. Booksellers in the rest of the world saw what happened in the U.S. and decided to create a different future for themselves. And we are happy and humbled to be a big part of that.
"The second is the general theme of "The Revolution is Over" related to ebooks that shows up in media, in some publisher boardrooms, the occasional retail association: the idea that the disruption has passed and people can go back to business as usual. But the changes that ebooks have wrought are deeper than most people can see. Anyone who is taking comfort in flat ebook sales from traditional publishers is missing how fundamentally ebooks are starting to decouple from the print market. For Kobo, one in four of the books we sell in the U.S. or Canada is from an independent or self-published author. They don't show up in publisher surveys or industry reports. It's the dark matter of book sales – like having another HarperCollins or Simon & Schuster that only a few companies can see or sell. And it's growing at double-digits every year, doesn't engage with physical retail, and is dominating ebooks for price-sensitive readers. These titles have high ratings, great reviews, and the person buying usually doesn't know or care that it was independently published. That's just one example of fundamental change – there are many more. And that's okay. Nothing is crashing down, but the ground is shifting. It speaks to the need for all of us, retailers, publishers, agents, authors, to not get too comfortable. Constantly question the status quo and keep laser-focused on readers – what, how and why they are reading today, and how to make sure we keep earning their time for books in a world where time is ever-more precious."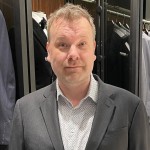 Michael Kozlowski has written about audiobooks and e-readers for the past twelve years. Newspapers and websites such as the CBC, CNET, Engadget, Huffington Post and the New York Times have picked up his articles. He Lives in Vancouver, British Columbia, Canada.