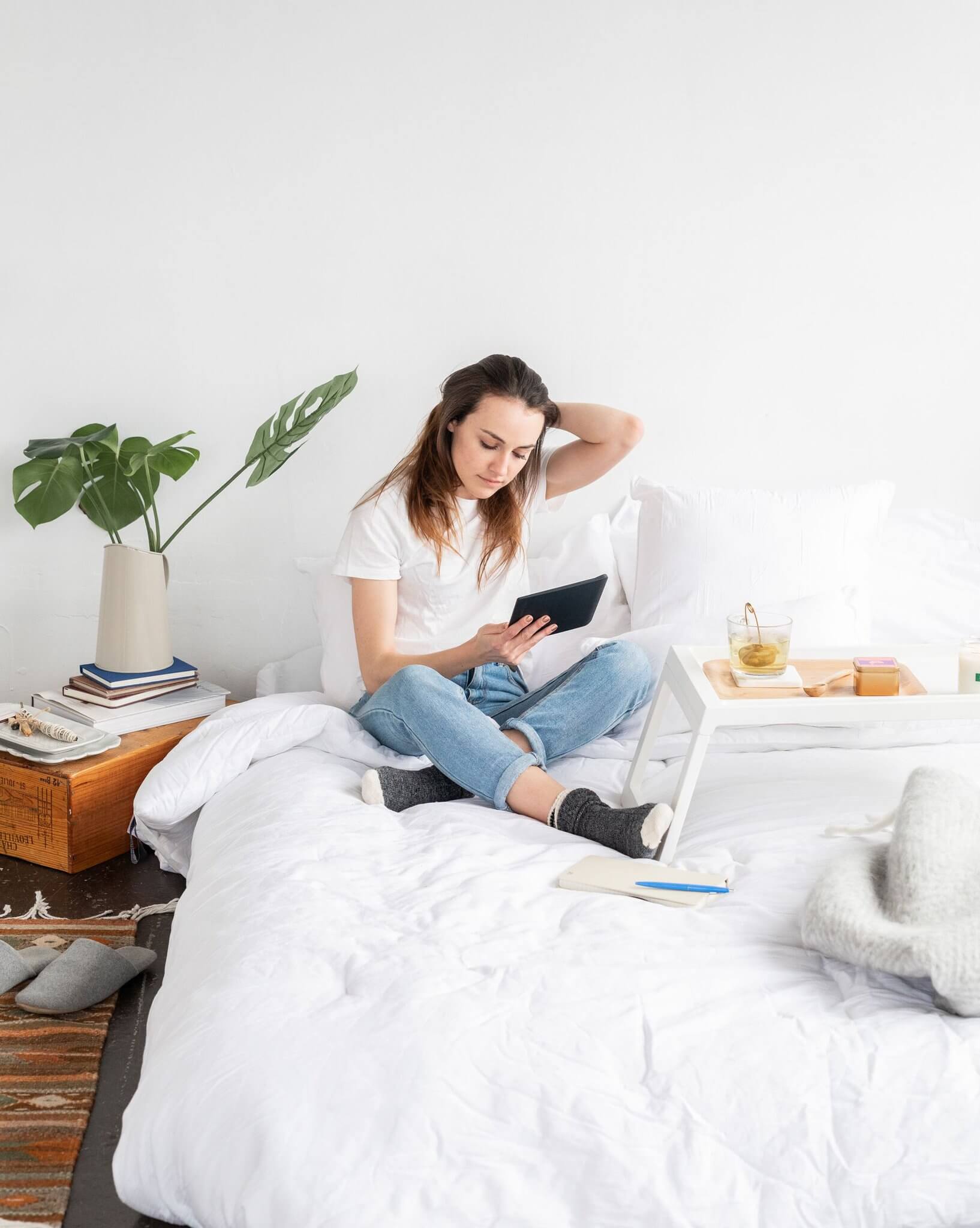 The e-Reader industry is experiencing a boom period and millions of people are either buying one of the first time or upgrading older devices. There are going to be dozens of different devices coming out, some are geared towards casual readers and others will be a replacement for paper, allowing you to take digital notes with a stylus or edit PDF files. Here are all of the new e-readers that are coming out in 2019!
Onyx Boox Nova Pro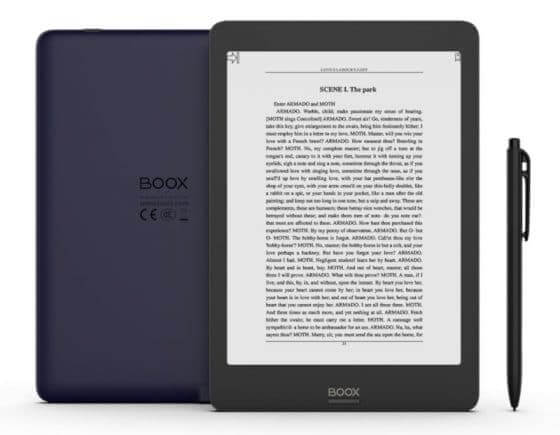 The Onyx Boox Nova Pro features a 7.8 E-Ink Carta HD screen with a resolution of 1872×1404 and 300PPI. The screen is completely flush with the bezel. Underneath the hood is a 1.6GHZ quad core processor, which is the same one that the Onyx Boox Nova employs. There is 32GB of storage, 2GB of RAM, USB-C, 2800 mAh battery and Android 6.0. You will be able to read in the dark via the frontlit display and it also has a color temperature system.
The big selling points of the Nova PRO is that it will be a digital note taking device. It will have a WACOM screen and come with a stylus. There will be a digital note taking app and functionality to edit PDF files. This in in addition to the capacitive touchscreen display for swipes and gestures. The cost of the Nova PRO is $299 and ships on March 8th 2019.
Onyx Boox Note Pro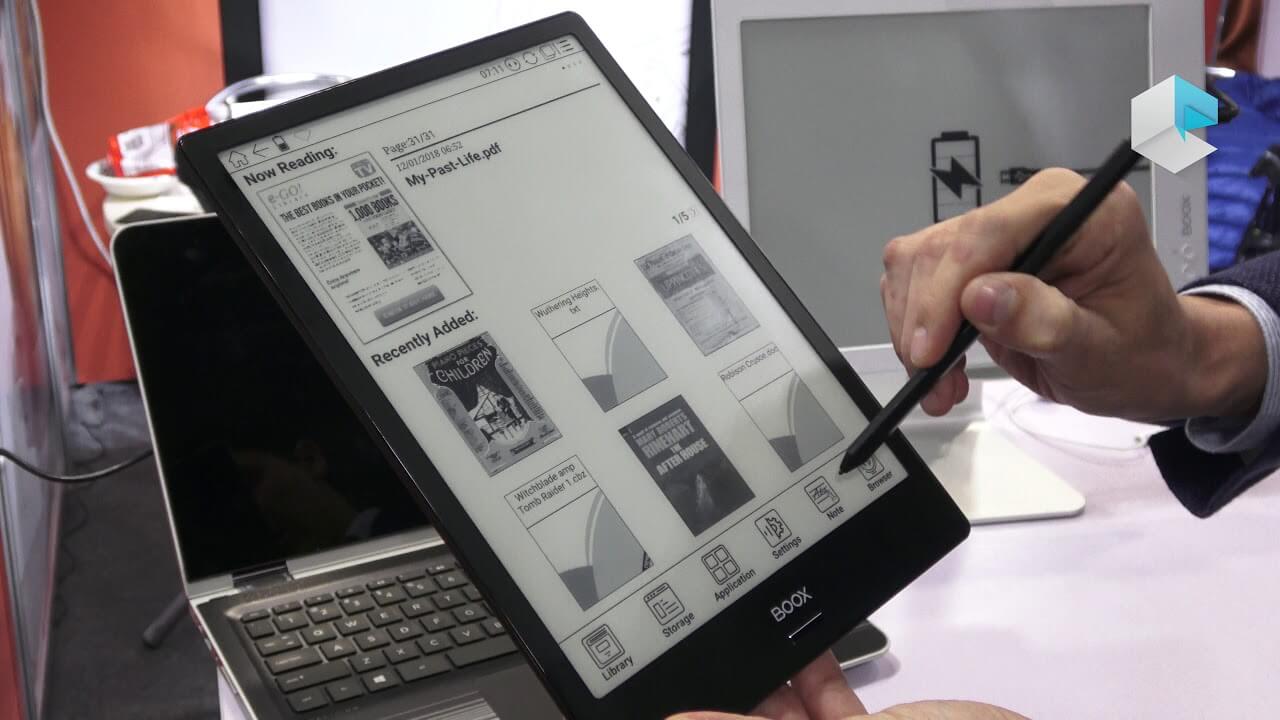 The Onyx Boox Note Pro features a 10.3 inch E-ink Mobius and Carta display and a resolution of 1872×1404 and 227 PPI. It has a WACOM screen for the stylus and a capacitive touchscreen for interactions involving swipes and gestures. The PRO will also feature the same glass based display as the Note Plus, so the screen will not get damaged no matter how hard you press on the stylus, and doesn't really need a screen protector.
Underneath the hood is a 1.6GHZ quad core processor, 4GB of RAM, 64GB of storage, dual speakers, mic, Bluetooth 4.0, USB C and WIFI. Onyx was the first e-reader company to employ a quad processor and it dramatically increases the performance of navigating around the device, surfing the internet, turning the pages of a book or using Android apps.
The big selling point of the Note Pro, is that it has a color temperature system and a front-lit display, so you can finally use it at night or in low light conditions. It also is a digital note taking device, with a ton of options to freehand draw, edit pdf files or make annointations in ebooks. The cost of the Note PRO is $599.
Boyue Likebook Muses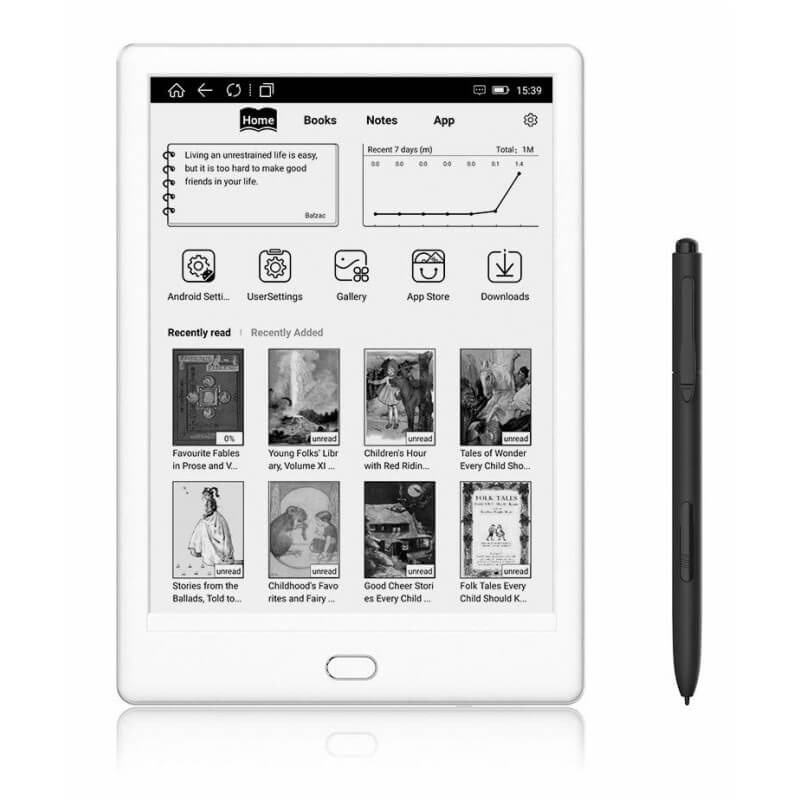 The Boyue Likebook Muses features a s a 7.8 inch E Ink Carta touchscreen display with a resolution of 1782×1448 and 300 PPI. It also has a WACOM layer and comes with a stylus. In order to take notes effectively Boyue has incorporated the same note taking software that the Likebook Mimas employs.
Underneath the hood is a 8 core 1.5 GHZ processor with 2GB of RAM and 32GB of internal storage. This is the 3rd e-reader ever made with an octa-core processor. It also has support for Bluetooth, WIFi, 3.5mm headphone jack, but doesn't have built in in speakers. It is powered by a 3100mAh battery.
The Muses has a front-lit display with 17 LED lights, the vast majority of them are white and the rest are orange to give a candlelight effect. Many e-readers that have a color temperature system have two different sliders, one for each. The Boyue has one slider that controls the luminosity of the white LED lights and if you hit the moon button you can control the brightness of the candlelight effect. I like this condensed approach, it minimizes the amount of space the lighting control system takes up.
You can consider the Muses the second generation Likebook Mars, except this device can take notes and has a SD card that is capable of running an additional 128GB of storage. SD's are increasingly rare on e-readers these days and if you are looking for something that can house your extensive collection of digital content, look no further. The Likebook Muses is now available on the Good e-Reader Store and it retails for $289.
Wisky EeWrite E-Pad
The Wisky EeWrite is a new e-reader that is hitting mass production right now and will be released sometime in May. This 10.3 inch e-reader is the first one that is utilizing a Helio 10 core processor and its performance is putting everything else to shame.
The EeWrite features a 10.3 inch E Ink Mobius display with a resolution of 1872 x 1404 with 227 PPI. It has both a touchscreen layer for interactions and a WACOM one for taking notes and editing PDF files with the accompanied stylus.
Underneath the hood is a deca-core Helio X20, which should dramatically increase performance with the Android based operating system. There is no word yet on how much RAM is has, but it does have 32GB of internal storage and is powered by a massive 4,100 mAh battery. It has USB-C, stereo speakers, Bluetooth, a microphone and a SIM card, so you can you access all of your favorite apps, while on the go.
This product is currently undergoing a very limited crowdfunding campaign and only a few hundred units will be available in its first production run. It will retail for $399 and will be available in May or June 2019.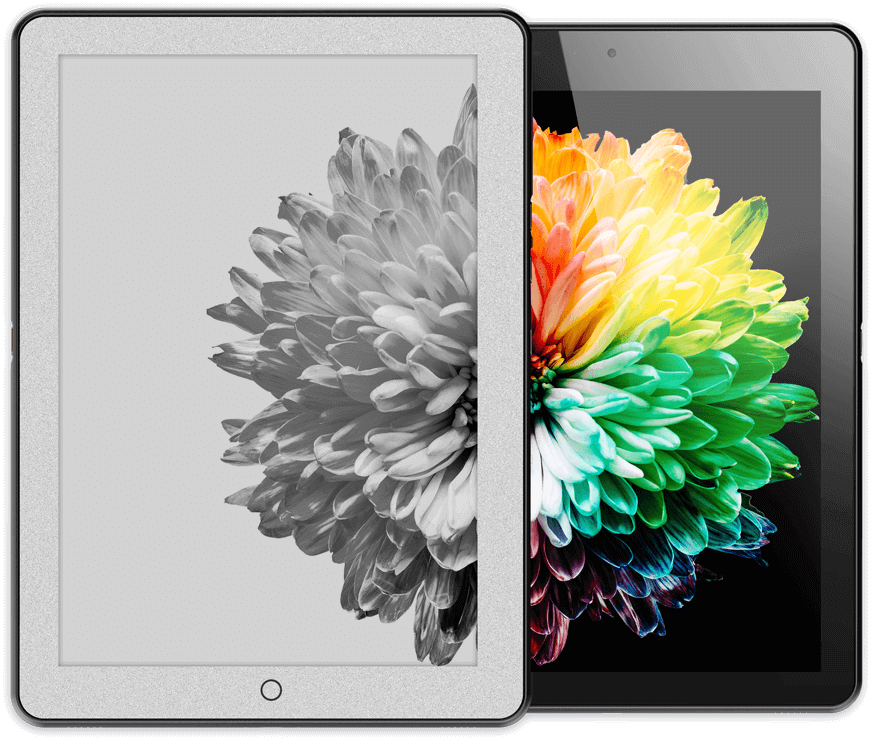 Good e-Reader broke the news in March that Wisky was developing an e-reader that had two screens, one would be E Ink and the other would be a full color LCD. The company has developed a prototype, which they have just debuted at on their website.
The Wisky EPad X features a 9.7 inch LCD display with a resolution of 1536×2048 and on the back is 9.7 inch E Ink Carta HD panel with a resolution of 1200×825. Underneath the hood is a MT8176 six-core processor, 2GB of RAM and 32GB of internal storage. If you are unhappy with the amount of storage, there is an SD card capable of an additional 64-128GB. There is a WIFI+USB+HDMI+Mailbox transfer document system and USB-C. You can listen to audiobooks or music with the dual speakers or via Bluetooth headphones. It is powered by a giant 5000mAh battery.
Eewrite says the tablet supports a Wacom digital pen with 4096 levels of pressure sensitivity, so in addition to reading eBooks and other documents, you should be able to jot notes, draw pictures, and annotate documents. They also stated that only one screen can be on at a time, and a button cycles between the LCD screen and the E Ink one.
This device will be available soon on a crowdfunding platform, it is likely it will be introduced once their E-Pad campaign has wrapped up.
Dasung – Not an e-reader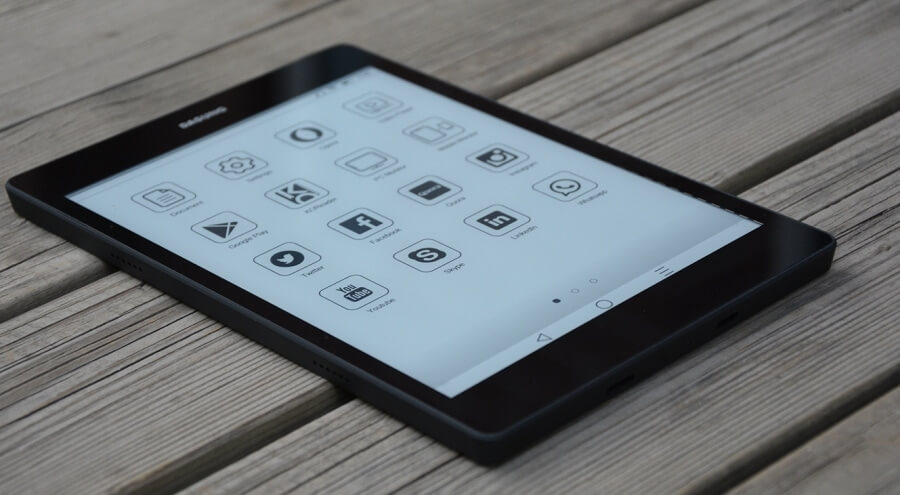 In late 2018 Dasung launched a crowdfunding campaign for a very interesting new product. This device can make phone calls, read ebooks, run Android apps and also be used as a secondary monitor that can play video.
The new Dasung product is called "Not an e-reader" and it features a 7.8 E-ink Screen Carta HD display with 300 PPI. It has a front-lit display so users can read in the dark and also has a color temperature system for cold and warm light.
Underneath the hood is a Quad Core Processor, 2GB of RAM and 64GB of internal storage. It has Bluetooth, Wifi, 5-point touch, 2-channel stereo. You will be able to listen to music via the 3.5mm headphone jack. There is an HDMI port so it may be plugged into a PC or laptop to act as a secondary monitor. This device has its own power supply, which is a first for Dasung and it is 5300 mAh.
The big daw is using it as a dedicated ebook reader. You can use the default app to read all the popular formats such as EPUB, MOBI or PDF. It has a fast mode system for top-speed refresh rate, smooth operation and a solid reading mode, which dramatically increases refresh rate, better contrast, exquisite graphics quality.
The Dansung e-reader can mirror whatever is on your Android phone, since it is running Android 6.0. You can make phone calls right on the e-reader, which is useful if your phones battery is almost dead.
This product is retailing for $389 for the early bird perks and it will begin shipping sometime in March 2019. I would trust Dasung to deliver, they always crowdfund their campaigns, it helps them gauge how many extra units to incorporate in their initial production run, so they can meet demand. Once the crowdfunding phase is over, it will be sold on Amazon.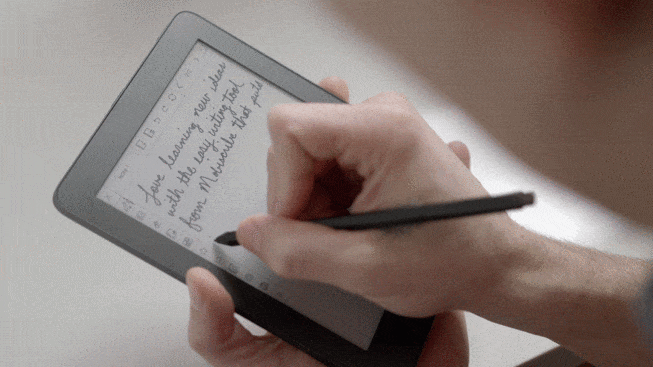 The Mobiscribe features a 6.8 inch Carta E-ink screen with a frontlight. It has both a capacitive and Wacom touchscreen, giving you the option of using either your fingertip or a stylus that supports 2096 levels of pressure sensitivity.
This device runs Android 4.4 on a 1GHz Freescale CPU with 512MB RAM and 8GB internal storage. It also has a microSD card slot and wifi, and you can change the color temperature of the frontlight and is powered by a 1500 mAh battery.
This product was a Indiegogo hit and generated over $321,000 in just a few months. The product retails for $214.00 and will ship out in September 2019.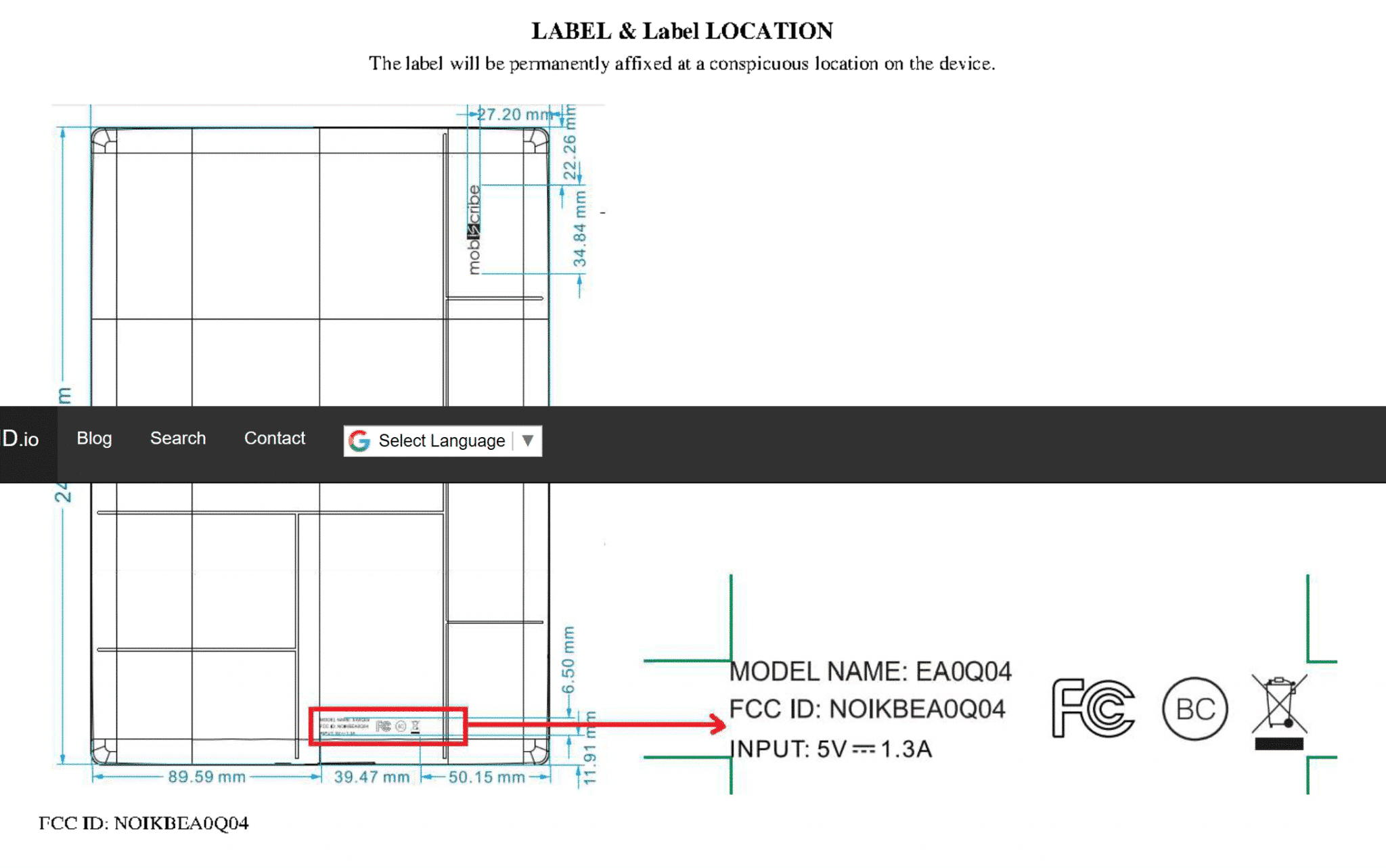 The Mobiscribe brand is owned by TeamUC, which is the North American manufacturer for Netronix. Netronix has just filed an FCC application for new 10.3 inch e-reader and Good e-Reader has confirmation that Mobiscribe will release a large screen digital note taking device that will have the same software as the Mobiscribe 6.8, which has been in the crowdfunding stage for the past few months.
The FCC has received an embargo request, so they are not releasing official specs or pictures of the product until October. This is quite normal for ebook readers and tablets, as companies do not want to give their competition too much information, so they release their own products.
TeamUC has been involved in E-Paper for over a dozen years and sells e-readers, digital signage and shelf labels for the US market.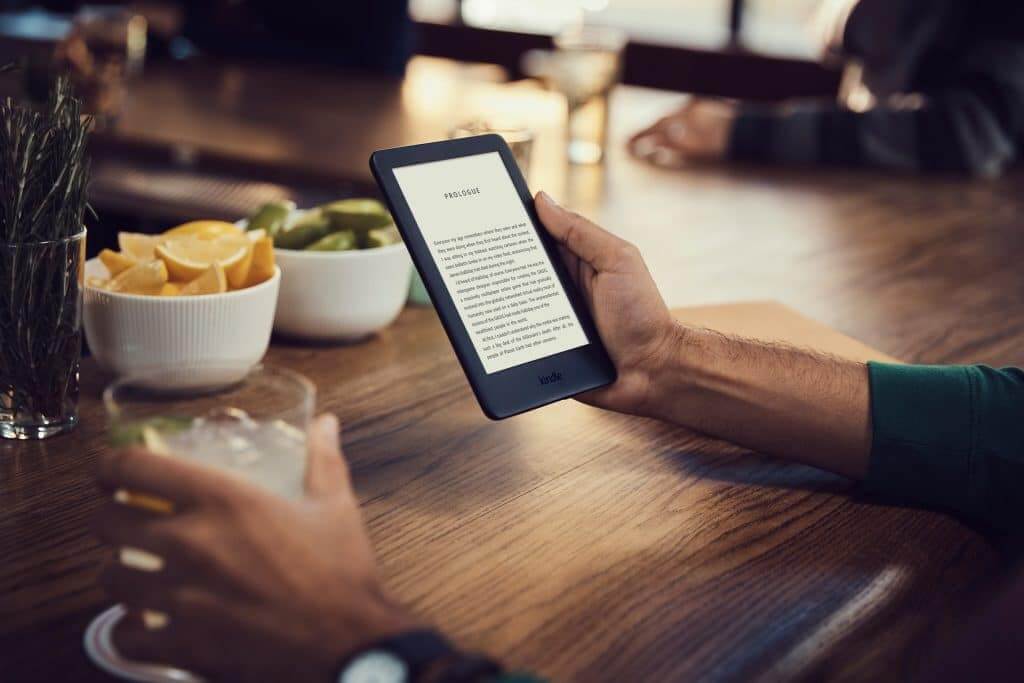 Amazon has just unveiled a new entry level Kindle e-reader with an E Ink Carta display and a front-light. This e-reader refreshes the old model that has been heavily discounted in the past few months, as Amazon was trying to get rid of as many units as possible.
The entry level Kindle e-reader features a 6 inch E Ink Carta display with a resolution of 800×600 and 167 PPI. This is the first Kindle with a front-light display, which allows you to control the brightness using a slider bar. It has 4 LED lights that are on the bottom of the bezel and project light upwards, so it is not shining in your eyes.
Underneath the hood is a NXP 6SLL (Cortex-A9 @800M/1GHz processor and 512MB of RAM. There is 4GB of internal storage to house all of the ebooks you have purchased from Amazon or from your own personal collection that you have sideloaded. There is no SD card for additional storage, but no Kindle after the 1st generation model has had one.
The all-new Kindle helps you go beyond a book with Amazon's newest reading features. Now, when you finish a book, it will automatically be marked as read in your library and synced across your reading devices including Kindle, Fire tablet, and the free Kindle apps for iOS and Android. With just a few taps, you can filter to see which books you've read and which you haven't, so organizing your library has never been easier.
The new Kindle also has Bluetooth for wireless headphones or an external speaker and has the Audible audiobook store. This will allow you to purchase audiobooks and listen to them.
Three months of Kindle Unlimited is included for free so you can enjoy unlimited access to millions of titles including stories from thriller author Vince Flynn, popular titles like The Selection by Kiera Cass, and classics like The Handmaid's Tale by Margaret Atwood.
The all-new Kindle is available for pre-order today starting at $89.99 in the US and will be available to ship on April 10th. There are two colors that will be available – black and white.
Amazon Kindle Voyage 2
The first generation Kindle Voyage was released in 2014 and Amazon was continuing to sell a fair number of units all the way into 2018. At the time, the Voyage was the flagship e-reader, the screen was flush with the bezel and it had page turn buttons that provided haptic feedback when pressed down. The front-lit screen has an ambient light sensor that would automatically control the luminosity of the screen, depending on your environment. This e-reader was replaced by the Oasis as the flagship e-reader, and the Voyage lost its shine.
I have heard from the upstream supply chain that the Voyage will be entering mass production soon and will likely be released sometime in the summer or fall. One of the interesting things I have been told was that the Voyage will have the same screen technology as the Paperwhite 4, which means it will be made of plastic and not glass. This will make it thinner and lighter, making it easier to carry. It will also have Bluetooth, something the first generation model did not have. This will allow Amazon to market Audible audiobooks on every single e-reader they sell.
Sony Digital Paper
Sony has finalized development of a new Digital Paper digital note taking device and it will be released sometime in the next six months. It will feature a 13.3 inch screen and will be a replacement for the DPT-RP1 that came out last year.
Rumors in the upstream supply chain suggest that the new Digital Paper will have an E Ink Carta and a Mobius screen. Internal storage will be doubled from previous models and the stylus will undergo an extensive redesign. One of the big things Sony wants to do with the stylus is being able to crop and copy PDF documents and save them as individual file. This is similar to the way the Firefox internet browser handles it with the mouse.
Sony also plans on innovating the software experience and changing the way backgrounds are downloaded. Currently you can only download additional backgrounds from the Sony website, but they are changing it so they can be delivered with the Desktop software. I have also heard they are working on some enterprise features.
The Digital Paper has been on the market since 2014 the and product has seen multiple generations. The landscape has changed in the past few years due to increased competition from companies like Remarkable and Onyx.
Last year Sony and E Ink formed a co-partnership called Linfiny and the Digital Paper 2019 edition will be a byproduct of this relationship. Sony has received a massive discount on the screens, so they can focus on the added costs of software development, which hasn't really changed in the past three years. It remains to be seen if Sony will scrap the CP1 10.3 inch model, since it hasn't sold well.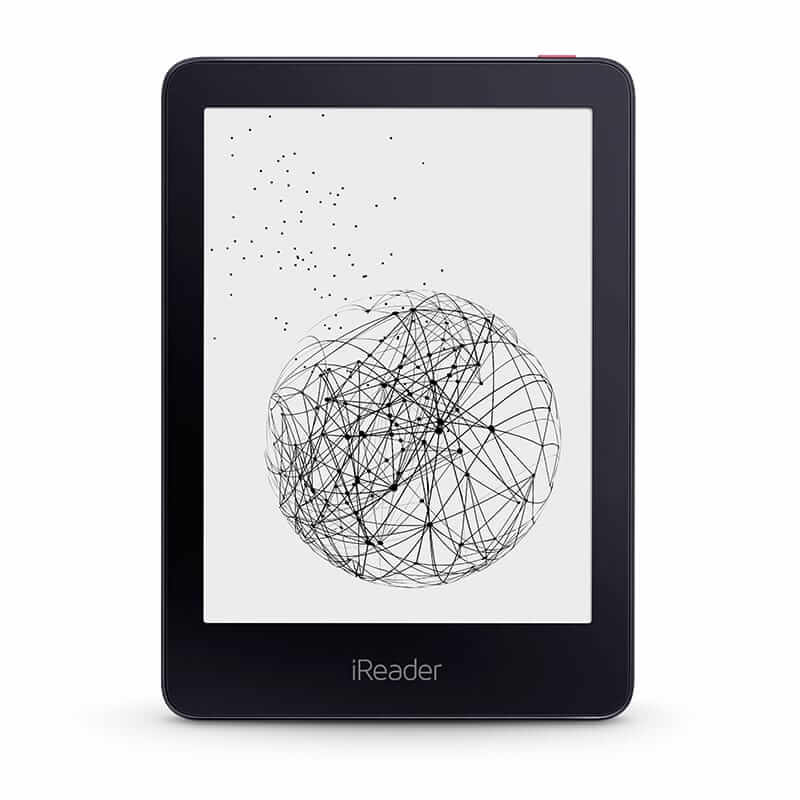 The iReader series of e-readers have only been available in China, but now they are starting to have wider availability. The iReader Ocean is a new device that is available for pre-order on many sites, including Banggood.
The iReader Ocean features a 6.8 E Ink Carta HD capacitive touchscreen display. The resolution is 1440×1080 and has 300 ppi. There is a front-lit display and color temperature system to read in the dark. Underneath the hood is a Freescale/NXP 1GHZ SoloLite processor, 512MB of RAM, 8GB of internal storage, WIFI and is powered by a 1500 mAh battery. The dimensions are 177.2x125x7.5mm and weighs 196g.
This device is powered by Linux and has a custom UI. It reads many ebook formats such as EBK .TXT .UMD .EPUB .PDF .MOBI. It is available as pre-order and will ship off on May 30th, 2019 and will cost $202 and comes with free shipping.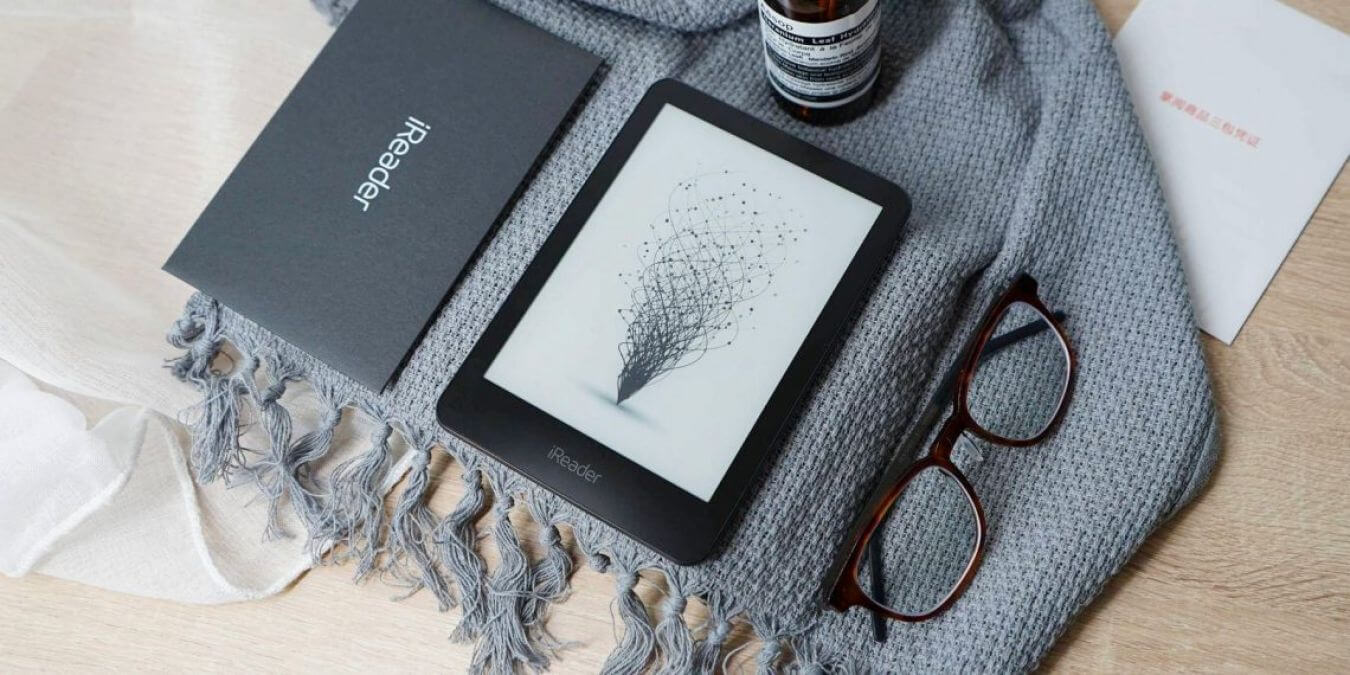 Xiaomi has just unveiled their first ebook reader and it is called the iReader T6. It is available now from iReader.com in China for ¥928 and also from JD Read. It was designed to compete against the Kindle and other smaller e-readers.
The iReader T6 features a 6 inch E Ink Carta HD display with a resolution of 1448×1072 and 300 PPI. The screen is completely flush with the bezel and it has a front-lit display for reading at night. Underneath the hood is a 1GHZ Freescale IMX6 Solo Lite processor and 8GB of internal storage. It is powered by a 1500 mAh battery, which should provide several weeks of usage. The width is 7.4 mm with a total weight of 160 g.
This device is using a proprietary Linux based OS iReader UI 2.0, which provides compatibility with all major formats of books and documents for reading : EBK, TXT, UMD, EPUB, PDF and MOBI. It has a pre-installed digital store with hundreds of digital books and magazines, but there is also the ability to download files over Wifi.
Untitled Kobo E-Reader
Kobo is working on new e-reader that will have audiobook support via Bluetooth. Kobo audiobooks can be purchased on a per title basis, but the platform also offers a subscription system for a monthly fee and it also comes with a 30-day free trial period. Customers will get one credit a month with their subscription and they can be redeemed for any audiobook title on the platform. In addition, readers earn Kobo Super Points on their monthly subscription fees or audiobook purchases.
Industry experts have told me that the new Kobo e-reader will be a replacement for the Kobo Aura Edition 2 that came out in 2016. I believe that Kobo is going to simply release the Forma Limited Edition in Canada, US, UK, Australia and New Zealand. They will be able to charge more money for the unit, because people will likely pay more money to listen to audiobooks on a Kobo branded E Ink device. I have also heard that they are thinking of increasing the storage space from 32GB to 64GB.
One of the barriers Kobo is facing is building an audiobook player that will be compatible with an E Ink screen and what types of features the average user will want. The company is also trying to figure out the cloud storage aspect of audiobooks that customers have made through the Kobo Android app or the main Kobo website and getting them to sync properly to their accounts on the e-reader. Syncing ebooks is normally not a challenge, but the average audiobook ranges in size from 250MB to 1.2GB.
Wrap up
Undoubtedly Pocketbook, Tolino, Boyue, Onyx, Barnes and Noble will all release new e-readers sometime this year, but product names and specs are currently unknown. At least one product will be using Clearink color epaper, but the actual device is a closely guarded secret. This post will constantly be updated as new e-readers are announced or we hear rumors. Stay tuned!

Michael Kozlowski is the Editor in Chief of Good e-Reader. He has been writing about audiobooks and e-readers for the past ten years. His articles have been picked up by major and local news sources and websites such as the CNET, Engadget, Huffington Post and Verge.